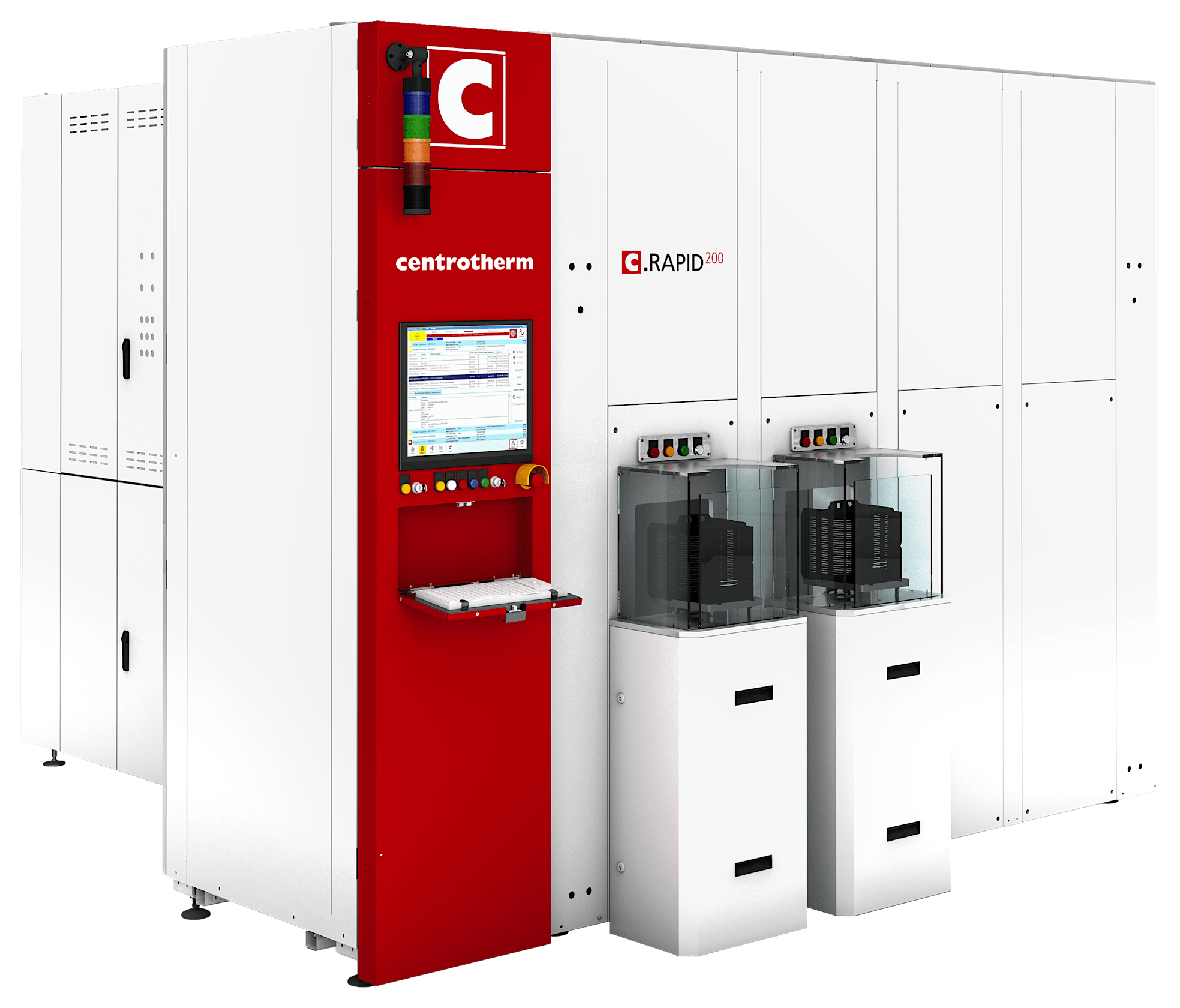 RTP
Rapid Thermal Processing system for silicon and compound semiconductors
The stand-alone RTP system c.RAPID 200 has been especially developed for multiple process requirements in R&D and production lines. High performance and flexibility combined with low cost of ownership make it the best choice in rapid thermal processing.
The capability to run a substrate on a susceptor or within a box in combination with atmospheric or vacuum operation enables a wide range of possible applications for compound semiconductors (e.g. for SiC or GaN).
Its wafer surface-independent temperature controllability is unique among all existing RTP solutions. The pyrometer-based temperature measurement system enables processes at low and high temperatures. Independent lamp control combined with predictive PID control provides excellent thermal accuracy and repeatability.
c.RAPID 200 operates with a fully automatic loading system and is available as single or dual chamber version and with up to 4 cassette stations.
Processes
Rapid Thermal Annealing (RTA)
- Ion implant annealing
- Contact/metal anneal
- Source/drain anneal
Silicide formation (Ti, Co, Ni, Pt, etc.)
PSG reflow
Dopant activation
Sales Semiconductor & Microelectronics
Tel. +49 7344 918 6794
E-Mail
Find us at
SEMICON Europa
Messe München | Munich, Germany
Features & Benefits
Ramp rate up to 40 K/s (150 mm silicon wafer within a box)
Side-by-side installation
Fully automated wafer handling
Uncompromising reliability
Pressure controlled vacuum or atmospheric operation
Excellent temperature uniformity
Precise ambient control
Maximum flexibility
Substrates up to 200 mm on susceptor or in boxes
Configurable with 2 process modules and up to 4 cassette stations
SMIF compatibility
Wafer sizes up to 200 mm
Compound semiconductors
Automated operation