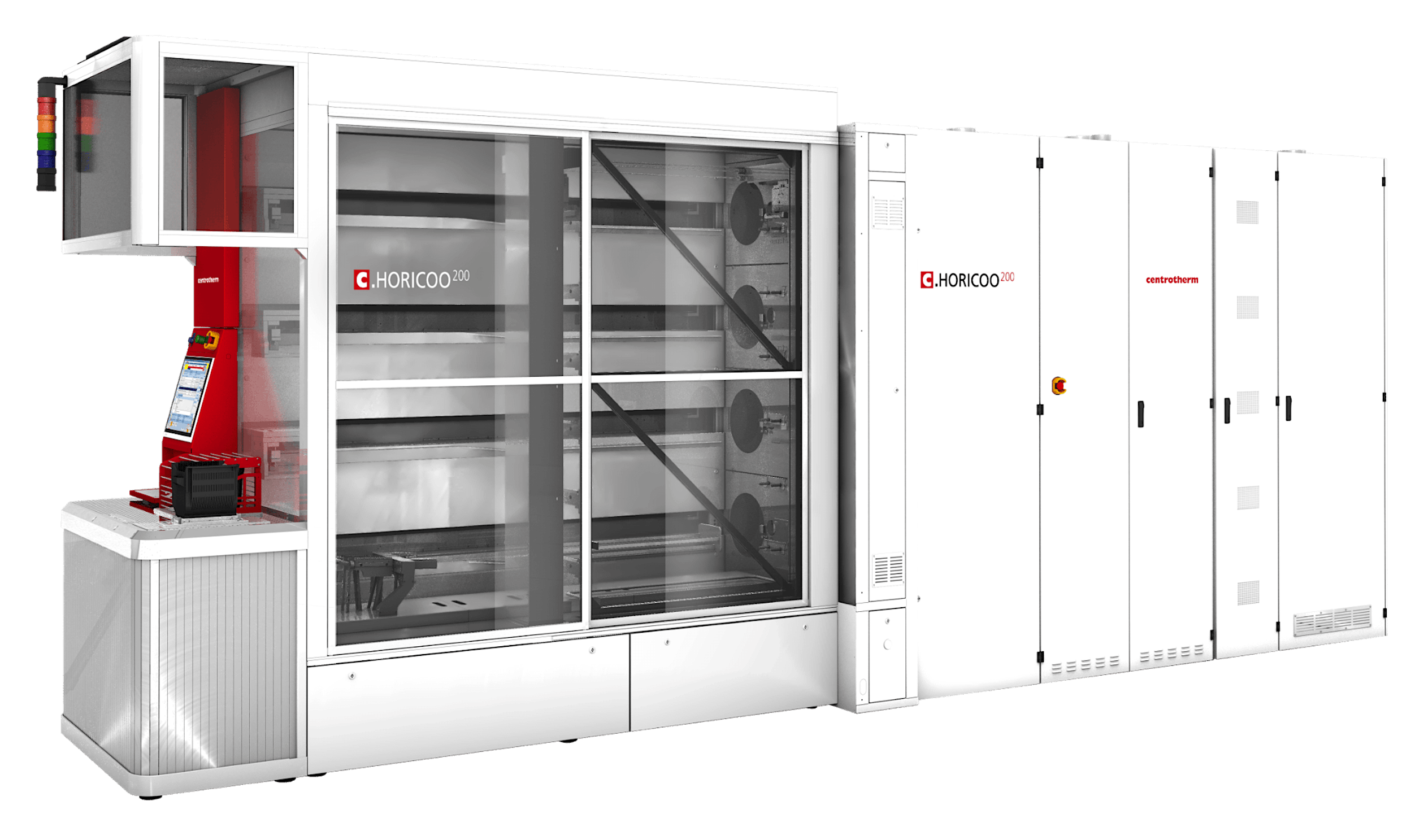 HORIZONTAL
Horizontal batch-type process system for multifold applications
The centrotherm c.HORICOO 200 is a field-proven and ultra-versatile tube furnace system that is available for mass and medium volume production as well as for Research and Development.
It provides reliable process capabilities and high process performance for multiple applications, such as atmospheric and low pressure diffusion as well as LPCVD processes. The process tubes can be configured for various processes with associated facilities. Within one furnace atmospheric, LPCVD or mixed-tube configuration can be installed.
All furnaces can be equipped with an integrated boat handling that enables the storage of process boats as well as an integrated wafer transfer system. Outside influences on process tubes are minimized by water-cooled heating cassettes. The softlanding system enables repeatable wafer positioning within the tube, independent from wafer load. Ease of maintenance ensures low cost of ownership and a high uptime.
Processes
Atmospheric processes
Wet and dry oxidation (DCE, HCl)
Diffusion (e.g. POCl3, BBr3)
Annealing (H2, N2)
Activation annealing
Contact sintering
Curing
Nitridation
Silicidation
LPCVD processes
Polysilicon and amorphous silicon
Doped Polysilicon
Silicon Nitride
Low stress Nitride
TEOS | PSG | BPSG
LTO | HTO
Oxynitride
SIPOS
Special processes
Low-pressure diffusion (POCl3)
Gallium diffusion
Aluminum pre-deposition/diffusion
Options
Boat elevator and boat storages
Integrated full automatic wafer transfer system
Flowbox
Sales Semiconductor & Microelectronics
Tel. +49 7344 918 6794
E-Mail
Find us at
SEMICON Europa
Messe München | Munich, Germany
Features & Benefits
Modular design for maximum flexibility
Up to 5 stacked quartz or SiC process tubes
Selectable process tube options available
Quick and easy installation and start-up in clean room facilities
Improved safety concepts according to SEMI standards
Advanced water cooling system
No thermal interference between individual tubes
centrotherm CESAR II Software
Modern touch operating HMI
Remote control and maintenance possible
All-in-one tube control
SEMI-compliant recipe management
Intuitive user-friendly GUI
Wafer sizes up to 200 mm
High process flexibility
Lowest total CoO