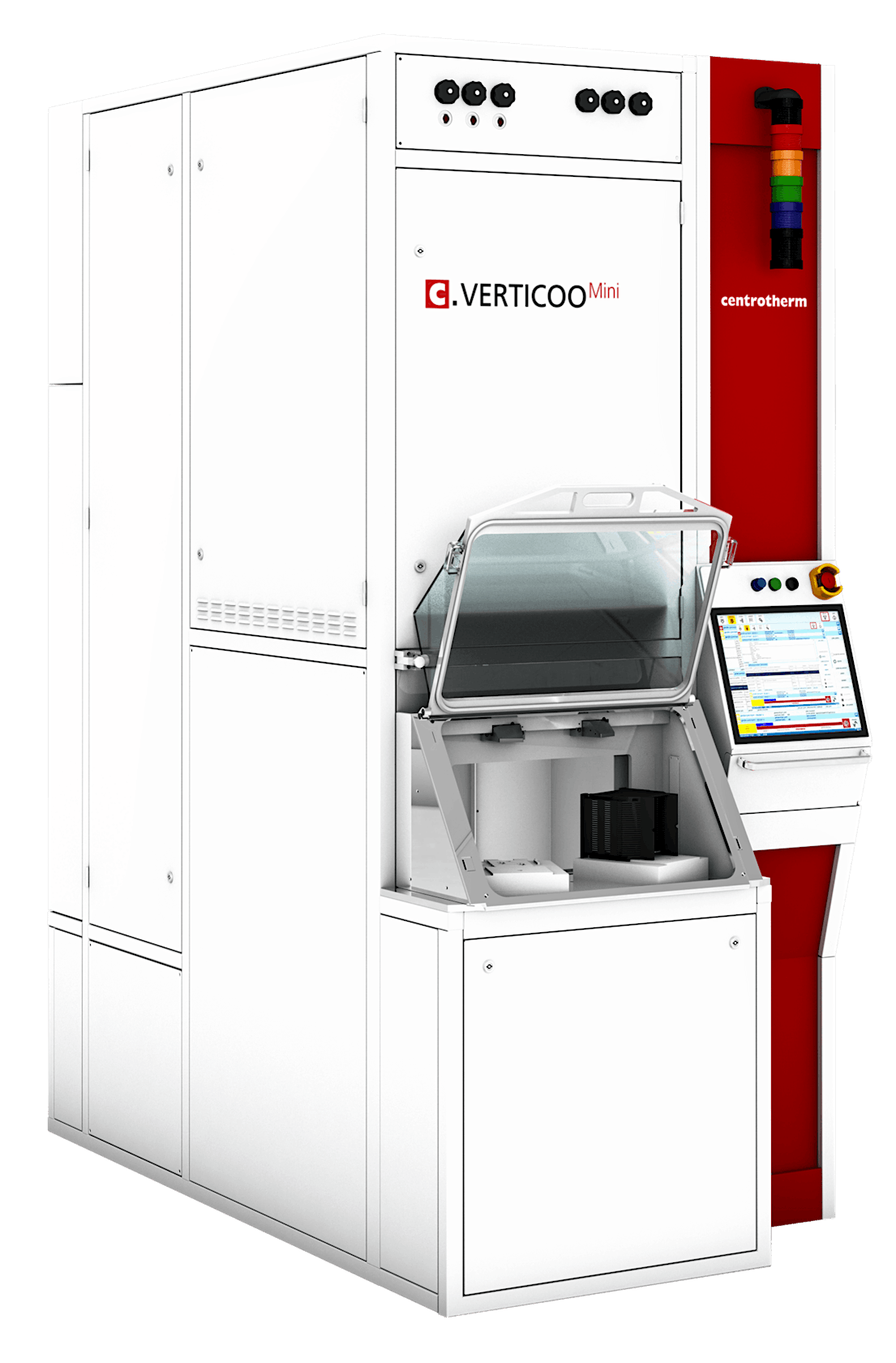 VERTICAL
Vertical wafer process system for R&D and production of Si-based semiconductors
The centrotherm c.VERTICOO platform for batch-type wafer processing is ideally suited for many semiconductor device fabrication steps. The special design of process chamber and heating system provides maximum flexibility for all standard atmospheric and LPCVD processes with temperatures up to 1100 °C.
The stand-alone system is available as high-throughput version for mass production or mini-batch equipment for R&D and low-volume production. Both models are outstanding for high performance, small footprint, low cost of ownership and ease of maintainance.
The high-volume furnace c.VERTICOO 200 combines a single-tube setup with dual boat logistics and fully automated carrier-to-carrier wafer handling ensuring maximum throughput with batch sizes up to 150 wafers.
The mini-batch furnace c.VERTICOO Mini meets the demanding requirements of semiconductor device R&D and allows customers to reduce development costs by processing a maximum of 50 wafers per batch.
Processes
Atmospheric processes
Diffusion
Dry oxidation
Wet oxidation (centrotherm Hydrox)
Annealing (H2, N2)
LPCVD processes
Polysilicon (doped, undoped)
Silicon nitride
Silicon oxynitride
TEOS oxide
High-temperature oxide
Options
Atmospheric pressure compensation
N2 load lock
Fast cooling
Sales Semiconductor & Microelectronics
Tel. +49 7344 918 6794
E-Mail
Find us at
SEMICON Europa
Messe München | Munich, Germany
Features & Benefits
Auto alignment
Dual boat logistics
Water cooled heating cassette
Internal storage for 20 carriers
Service friendly and space saving design
Main service access at rear side through large doors
Hinged service monitor for easy access
Fast and easy tube and liner exchange
Small footprint (3.1 m2)
Designed for side-by-side installation
Wafer sizes up to 200 mm
High process flexibility
Lowest total CoO