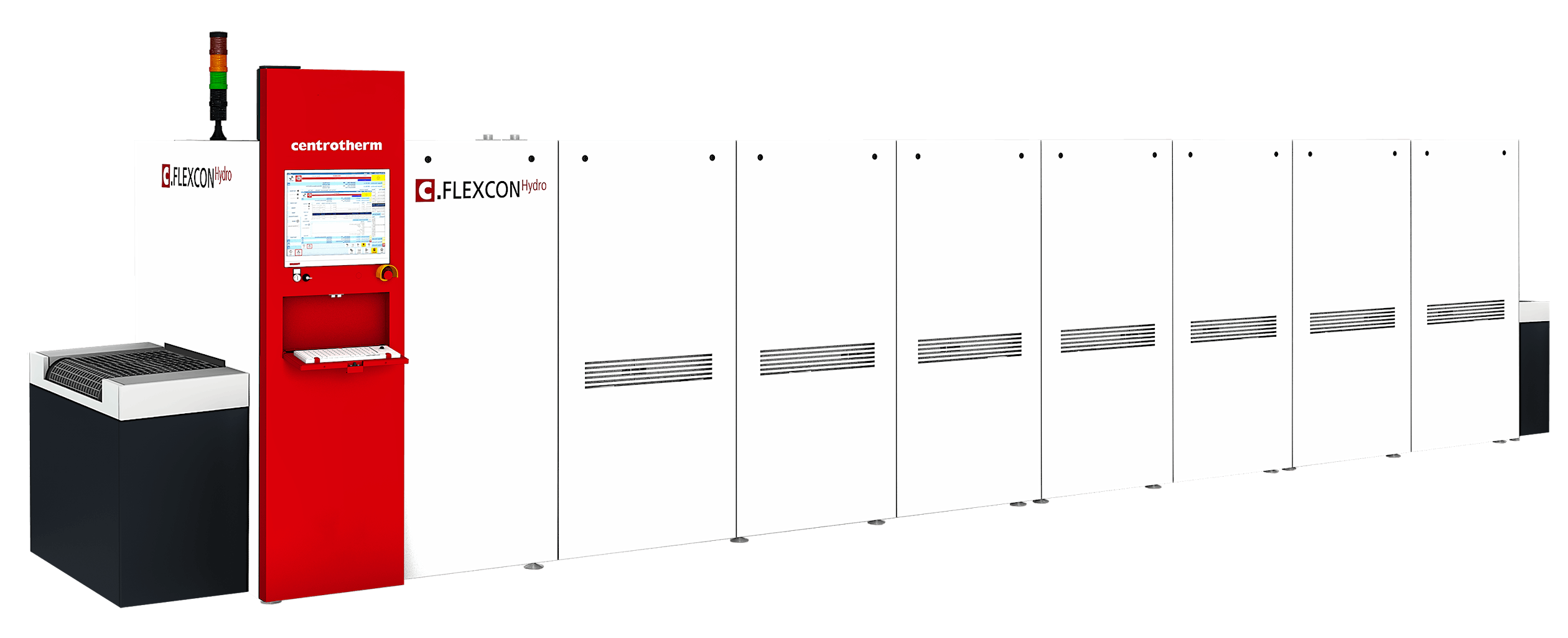 HYDROGEN
Full hydrogen atmosphere conveyor belt furnace
The centrotherm c.FLEXCON Hydro is a conveyor belt furnace especially designed for applications that require 100% Hydrogen, such as glass-to-metal sealing or reflow soldering.
c.FLEXCON Hydro is characterized by a gas tight muffle with excellent temperature and process gas control.
A PLC system with bus connection monitors and controls all relevant process parameters. Data logging of process data for documentation and quality management complements the system.
For workpiece treatment in reducing Hydrogen atmosphere c.FLEXCON Hydro provides highest safety:
Hydrogen sniffer probes
Oxygen concentration analyzer
Hydrogen burn-off units
Safety PLC
Safety interlocks
Emergency stop
Emergency Nitrogen supply
Processes
Glass-to-metal sealing
Soldering, reflow soldering
Microelectronics packaging
Options
Side heating for improved temperature uniformity: ± 1.5 K (400 mm belt)
Active cooling of housing
High-temperature processing: 900 - 1150 °C
Type S thermocouples
High-performance muffle for frequent change of process temperature
Temperature profiling equipment
Internal or external UPS (Uninterruptible Power Supply)
Sales Semiconductor & Microelectronics
Tel. +49 7344 918 6794
E-Mail
Find us at
SEMICON Europa
Messe München | Munich, Germany
Features & Benefits
Excellent cross-belt temperature uniformity
Gas tight muffle
Smooth and jerk-free substrate transport
Easy temperature profile adjustment by 8 to 10 separately controlled heating zones
Hydrogen capability
High-temperature processing
Gas tight muffle